Memorials to Florence Nightingale in the Crypt of St. Paul's Cathedral and in St. Thomas's Hospital Chapel
In the Nelson Chamber's East Bay of the crypt of the St. Paul's Cathedral you can see a sculpted marble and alabaster wall memorial with relief of Florence Nightingale holding a glass of water at her right hand and tilted over a bedridden wounded soldier with bandaged head. This memorial is the work of the famous English sculptor and painter Arthur George Walker (1861-1939) and was created in 1916. A G Walker was a Royal Academician (R.A.).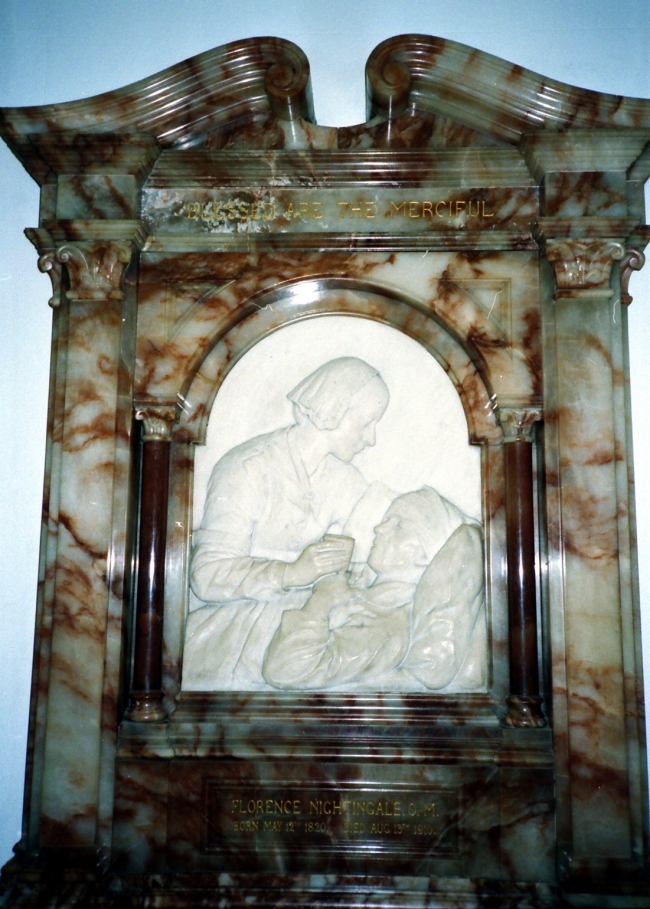 At the top of the alabaster frame, there is the following inscription;
BLESSED ARE THE MERCIFUL
and in the bottom of the frame it is written;
FLORENCE NIGHTINGALE. O.M.


BORN MAY 12TH 1820 - DIED AUGUST 13TH 1910

The significance of O.M is "Order of Merit". The Order of Merit is a British honorary institution founded by Edward VII in 1902 to reward those who provided especially eminent service in the armed forces or particularly distinguished themselves in science, art, literature, or the promotion of culture. Members are awarded the right to use the post-nominal letters OM.

This is not her tomb as she was buried in her family tomb in East Wellow, Hampshire

Another memorial almost identical is located in the chapel of St. Thomas Hospital where she founded her famous nursing school. Here Florence Nightingale's relief panel is in plaster, painted white. It is also a work made in 1917 by the sculptor Arthur George Walker.

Dimensions of the relief are 89cm high and 67cm wide, dimensions of the frame in alabaster are 141cm high and 113cm wide.

The relief is signed with the artist's monogram at lower left: an intertwined A, G and W.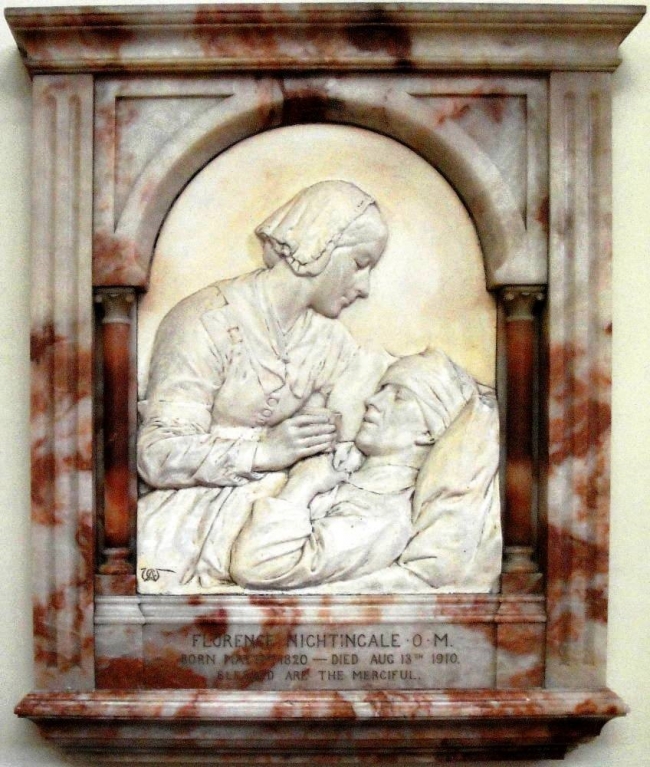 On the alabaster frame, at the bottom, there is the following inscription:
FLORENCE NIGHTINGALE . O.M.
NEE le 12 MAI 1820 - MORTE le 13 AOUT 1910
BLESSED ARE THE MERCIFUL

The shape of the alabaster frame is different from what is in St. Paul's Cathedral.
Address:
St. Paul's Churchyard, London EC4M 8AD and St. Thomas Hospital, Westminster Bridge Rd, Lambeth, London SE1 7EH,